Welcome to search-companion
search-companion.org is working on open source tools to help technical people to interact with the open source search engine Solr (https://solr.apache.org). The functionality is based on apache camel (https://camel.apache.org) application. The search-companion components are deployed in an apache karaf container (https://karaf.apache.org) via "search-companion" karaf features.
The docker image of the karaf container is available here on docker hub
The karaf features xml can be found here
The karaf distro can be found here
Quick start demo
The easiest way to see the search-companion functionality in action, is to run the searchcompanion/karaf docker container in an example "docker compose" network with a zoo/solr ensemble and an example db. See the companion-demo README page
search-companion features deployed in karaf
data-import: alternative and robust solution that replaces the deprecated solr DIH (dataimporthandler); basically taking care of the data synchronisation between a datasource and solr
config-upload: a solution that enables non IT people to load solr config files (dictionaries, synonyms, …) into zookeeper via a folder watcher (with optional post-processing tasks e.g. spellcheck build)
querqy-upload: a querqy rules upload routine based on a folder watcher that generates rules for a querqy rewriter from csv files
searchapi: extendable REST search API that puts a search API in front of the search engine; includes a swagger UI, a jaxrs-server and Apache CXF as the implementation of the JAXRS specification
REST service list:

;
OpenAPI 3 Swagger UI: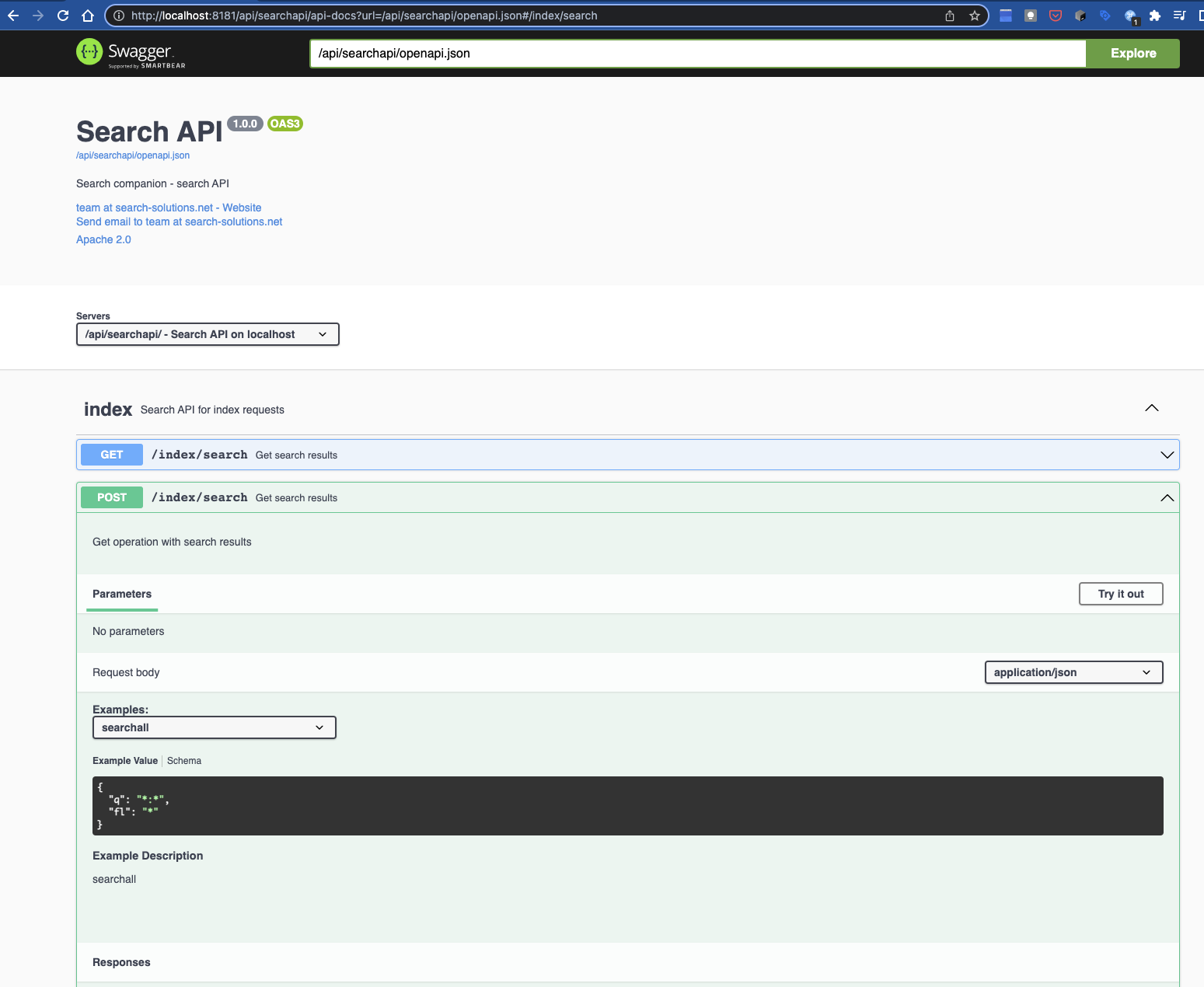 search-companion source code on GitHub
https://github.com/search-companion/companion
Contact
Please contact us via email. We're open to suggestions, enhancements and feedback and welcome all possible participations to this project.